Application
Blast furnace gas cut off valve is widely applied in blast furnace hot stove system of iron and steel enterprises as chimney valve, air cut off valve, coal gas cut off valve, exhaust valve, cold air valve.
Features
1. The control signal adopts a 24V or 220V proximity switch.
2. Blast furnace gas cut off valve can be driven electrically or hydraulically.
3. Blast furnace gas cut off valve has single valve plate. It features compact structure and flexible operation.
4. The size of connecting flanges meets the standard of GB/T9119.
5. Out test method is in line with GB/T13927 standard.
6. There is no slant compression device on the valve body and valve plate to ensure the good sealing effect of valve when there is no back pressure.
Technical Parameters
Type Parameters
ZR743H-2
ZR741H-2 (4)
ZR941H-2 (4)
DN700~1100
DN800~2000
DN800~2000
Nominal pressure (Mpa)
0.2
0.4
0.4
Strength test pressure (Mpa)
0.3
0.6
0.6
Sealing test pressure (Mpa)
0.22
0.44
0.44
Working temperature (℃)
≤420
Medium
Air, coal gas, fume
Leakage rate (mm3/s)
150 ×DN
Connecting flanges
GB/T9119
Material of Main Parts
Name of parts
Valve body
Valve plate
Sealing surface
Valve rod
Stuffing
Material
Cast iron, steel plate
Nickel-plated chrome alloy
40Cr or 45# steel hardening and tempering
Asbestos, graphite
ZR743H-2 Gas Cut off Valve
Hydraulic Actuator Parameters
Cylinder
Limit switch
Diameter
Oil pressure
Port size
Voltage
Current
100mm
8MPa
M18 ×1.5
24V, 220V
0.8-8mA
Limit switch
Type
Voltage
Current
IAS-2408LA
220V
0.5mA~8mA
Main Structure Dimension /Unit: mm

| | | | | | | | | | | | |
| --- | --- | --- | --- | --- | --- | --- | --- | --- | --- | --- | --- |
| DN | D | D0 | D1 | L | L1 | H | H1 | B | b | N- φd | Weight(KG) |
| 700 | 895 | 700 | 840 | 600 | 493 | 2171 | 525 | 970 | 35 | 24- φ30 | 2500 |
| 800 | 1015 | 800 | 950 | 680 | 526 | 2538 | 630 | 1180 | 40 | 24- φ33 | 2800 |
| 900 | 1115 | 900 | 1050 | 750 | 526 | 2796 | 720 | 1280 | 40 | 28- φ33 | 3200 |
| 1000 | 1230 | 1000 | 1160 | 750 | 535 | 3190 | 750 | 1380 | 40 | 28- φ36 | 4000 |
| 1100 | 1305 | 1100 | 1240 | 750 | 555 | 3345 | 800 | 1490 | 40 | 28- φ33 | 4500 |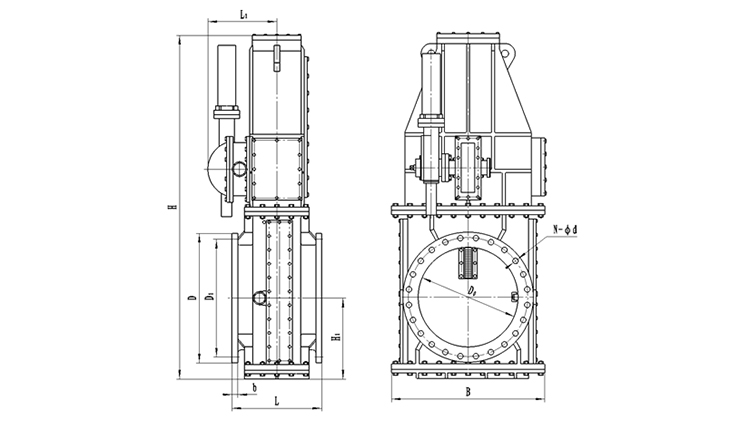 ZR741H-4 Gas Cut off Valve
Hydraulic Actuator Parameters
Cylinder
Limit switch
Diameter
Oil pressure
Port size
Voltage
Current
100mm
8MPa
M18 ×1.5
24V, 220V
0.8-8mA
Main Structure Dimension /Unit: mm

| | | | | | | | | | | | | |
| --- | --- | --- | --- | --- | --- | --- | --- | --- | --- | --- | --- | --- |
| DN | D | D0 | D1 | L | A | A1 | A2 | H | H1 | b | N- φd | Weight(KG) |
| 800 | 1015 | 800 | 950 | 680 | 1180 | 1300 | 890 | 3900 | 3225 | 40 | 24- φ33 | 4800 |
| 900 | 1115 | 900 | 1050 | 750 | 1280 | 1350 | 940 | 4175 | 3448 | 40 | 28- φ33 | 5150 |
| 1000 | 1230 | 1000 | 1160 | 750 | 1380 | 1500 | 990 | 4640 | 3860 | 40 | 28- φ36 | 5960 |
| 1100 | 1305 | 1100 | 1240 | 750 | 1480 | 1550 | 1040 | 4940 | 4110 | 50 | 28- φ33 | 6550 |
| 1200 | 1420 | 1200 | 1350 | 800 | 1590 | 1605 | 1090 | 5275 | 4390 | 50 | 28- φ36 | 7235 |
| 1300 | 1520 | 1300 | 1450 | 800 | 1700 | 1660 | 1150 | 5575 | 4635 | 50 | 32- φ36 | 8920 |
| 1400 | 1650 | 1400 | 1560 | 850 | 1850 | 1765 | 1225 | 5900 | 4900 | 55 | 36- φ36 | 10450 |
| 1600 | 1870 | 1600 | 1770 | 850 | 2080 | 2074 | 1340 | 6620 | 5545 | 55 | 44- φ39 | 11800 |
| 1800 | 2060 | 1780 | 1970 | 900 | 2200 | 2100 | 1400 | 7215 | 6015 | 65 | 48- φ39 | 13590 |
| 2000 | 2280 | 1980 | 2180 | 900 | 2440 | 2270 | 1520 | 7815 | 6510 | 65 | 48- φ45 | 15820 |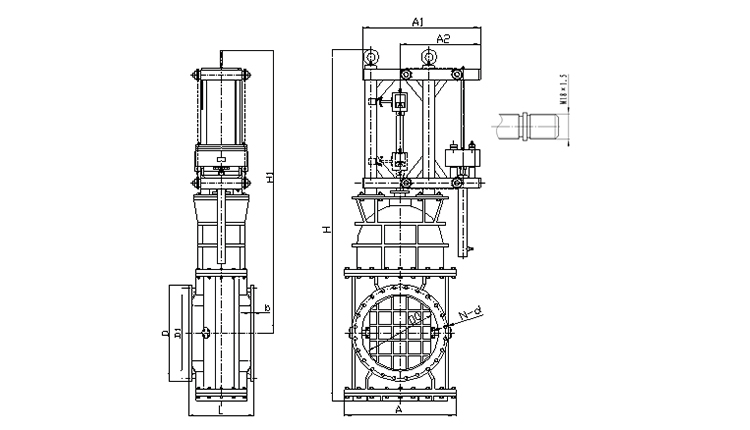 ZR941H-4 Gas Cut off Valve
Electric Actuator Parameters
Electric actuator
Limit switch
Type
Voltage
Power
Voltage
Current
RDY300-A
AC, 380V
3KW
24V, 220V
0.5-20mA
Main Structure Dimension /Unit: mm

| | | | | | | | | | | | | |
| --- | --- | --- | --- | --- | --- | --- | --- | --- | --- | --- | --- | --- |
| DN | D | D0 | D1 | L | A | A1 | A2 | H | H1 | b | N- φd | Weight(KG) |
| 800 | 1015 | 800 | 950 | 680 | 1180 | 1020 | 1060 | 3830 | 3155 | 40 | 24- φ33 | 4800 |
| 900 | 1115 | 900 | 1050 | 750 | 1280 | 1020 | 1060 | 4110 | 3380 | 40 | 28- φ33 | 5150 |
| 1000 | 1230 | 1000 | 1160 | 750 | 1380 | 1120 | 1160 | 4510 | 3730 | 40 | 28- φ36 | 5960 |
| 1100 | 1305 | 1100 | 1240 | 750 | 1480 | 1120 | 1160 | 4810 | 3980 | 50 | 28- φ33 | 6550 |
| 1200 | 1420 | 1200 | 1350 | 800 | 1590 | 1120 | 1160 | 5150 | 4260 | 50 | 28- φ36 | 7235 |
| 1300 | 1520 | 1300 | 1450 | 800 | 1700 | 1120 | 1160 | 5420 | 4480 | 50 | 32- φ36 | 8920 |
| 1400 | 1650 | 1400 | 1560 | 850 | 1850 | 1150 | 1190 | 5740 | 4740 | 55 | 36- φ36 | 10450 |
| 1600 | 1870 | 1600 | 1770 | 850 | 2080 | 1300 | 1340 | 6750 | 5675 | 55 | 44- φ39 | 11800 |
| 1800 | 2060 | 1780 | 1970 | 900 | 2200 | 1340 | 1420 | 7320 | 6120 | 65 | 48- φ39 | 13590 |
| 2000 | 2280 | 1980 | 2180 | 900 | 2440 | 1450 | 1550 | 7920 | 6615 | 65 | 48- φ45 | 15820 |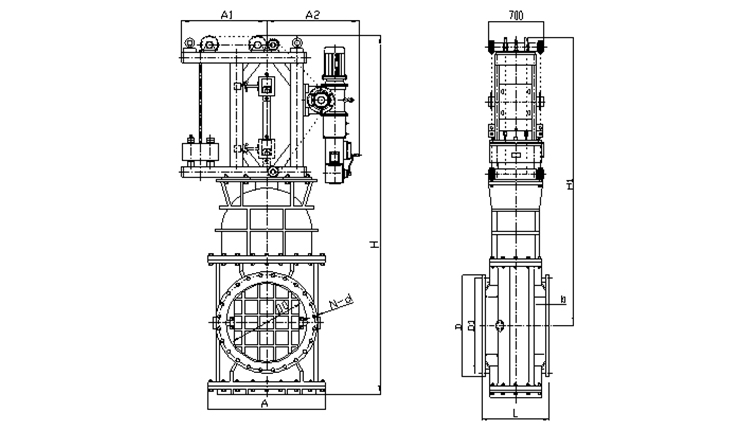 ZR741W-2(4) Hydraulic Cut off Valve
Technical Parameters
| | |
| --- | --- |
| Working temperature | ≤400 ℃ |
| Working pressure | 0.3MPa |
| Medium | Fume, hot air |
| Cylinder diameter | 50mm |
| Oil pressure | 8MPa |
Main Structure Dimension /Unit: mm

| | | | | | | | | |
| --- | --- | --- | --- | --- | --- | --- | --- | --- |
| DN | D | D1 | L | B | H | H1 | N- φd | Weight(KG) |
| 150 | 265 | 225 | 300 | 22 | 1260 | 190 | 8-17.5 | 150 |
| 200 | 320 | 280 | 300 | 22 | 1410 | 220 | 8-17.5 | 175 |
| 250 | 375 | 335 | 340 | 25 | 1560 | 250 | 12-17.5 | 200 |
| 300 | 440 | 395 | 340 | 25 | 1560 | 270 | 12-22 | 225 |
| 250 | 490 | 445 | 400 | 28 | 1960 | 300 | 12-22 | 275 |
| 400 | 540 | 495 | 400 | 28 | 2110 | 330 | 16-22 | 310 |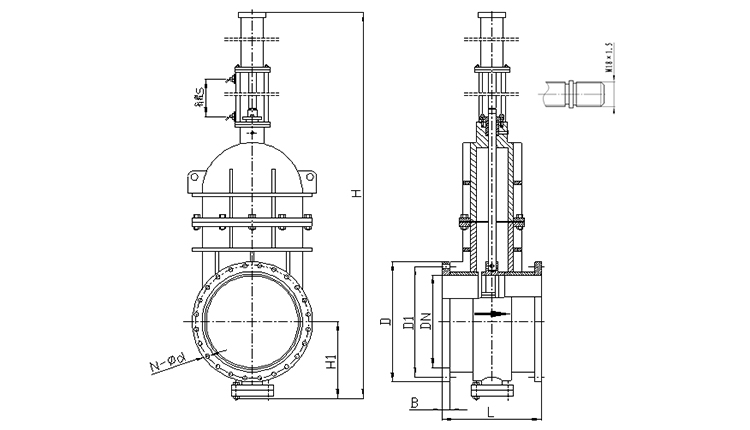 ZR941W-2(4) Electric Cut off Valve
Technical Parameters
Nominal pressure
0.2 MPa
0.4 MPa
Strength test pressure
0.3 MPa
0.6 MPa
Working temperature
≤400 ℃
Flow rate
<20m /s
Medium
Air, coal gas, fume etc.
Connecting flanges
GB/T9119 standard
Leakage ratio
150XDN
Main Structure Dimension /Unit: mm

| | | | | | | | | | | |
| --- | --- | --- | --- | --- | --- | --- | --- | --- | --- | --- |
| DN | D | D1 | L | B | H | H1 | N- φd | Electric actuator | Power (KW) | Weight (KG) |
| 150 | 265 | 225 | 300 | 22 | 1350 | 190 | 8-17.5 | ZA20-36 | 0.75 | 200 |
| 200 | 320 | 280 | 300 | 22 | 1410 | 220 | 8-17.5 | ZA20-36 | 0.74 | 225 |
| 250 | 375 | 335 | 340 | 25 | 1630 | 250 | 12-17.5 | ZA30-36 | 1.1 | 250 |
| 300 | 440 | 395 | 340 | 25 | 1790 | 270 | 12-22 | ZA30-36 | 1.1 | 275 |
| 350 | 490 | 445 | 400 | 28 | 2050 | 300 | 12-22 | ZA30-36 | 1.1 | 325 |
| 400 | 540 | 495 | 400 | 28 | 2260 | 330 | 16-22 | ZA30-36 | 1.1 | 360 |