Developed from Shijiazhuang Dihua Mechanical And Electrical Equipment Co Ltd., Shijiazhuang Tinite Metallurgical Equipment Manufacturing Co. Ltd. was officially established in 2015 as a specialized manufacturer of blast furnace charging equipment and valves. Since the inception of our company, we have grown into a trusted source of metallurgical equipment that can be counted upon for outstanding performance and reliability. Our blast furnace products are specially designed to be eco-friendly along with their highly efficient functionality. Tinite charging equipment is designed for use in a range of industries including, steelworks, power stations, cement plants, chemical plants, etc.

Main products of TINITE
1. Blast furnace charging equipment
2. Charging equipment for coke dry quenching
3. Blast furnace valves:
Valves for blast furnace purifying systems
Valves for blast furnace gas pipe systems
Valves for blast furnace top pressure recovery turbines (TRT)
Hot blast stove valves
Valves for gas pressure booster stations
Gas holder valves
Valves for OG systems (Oxygen converter gas recovery system)
Tinite Equipment
Here at Tinite, we utilize various production and machining equipment, including:
1. Double column vertical lathe of varying diameters (2.5 meters, 4 meters and 5 meters), T613 digital readout (DRT) floor type horizontal boring mill, and many other large-size machining equipment.
2. Supporting equipment, such as CNC cutting machines (4 meter *12 meter or 4 meter * 26 meter), large-size flange coiling machines, four-roll plate bending machines, a 3.5 meters hydraulic welding positioner, 200 ton hydraulic oil press machine, and more.
3. Various pieces of machining equipment, including Z3050 and Z308 radial drilling machines, C6140 and C6160 CNC lathes, 20 lathes, 30 lathes and 80 lathes (the number - 20, 30, and 80 - means that the maximum diameter that workpiece can turn, 20 means 200mm, 30 means 300 mm and 80 means 800 mm), slotting machines, and milling machines.
4. 15 pieces of large hoisting equipment.
TINITE's inspection equipment
1. Professional inspection equipment for blast furnace charging equipment: Large-scale detection platform (3000*4500), test platform for blast furnace material distributor, hydraulic integrated test equipment, servo control system, programmable logic controller, etc.
2. Professional inspection equipment for rotary seal valve, which is the major component of dry coke quenching.
3. Quality control equipment: induction furnace, heat treatment furnace, shot blasting room, etc.
Our service
Since its establishment, Tinite has always placed a huge emphasis on customer service. We have established a professional engineering team whose members are dedicated to customer services, including purchase consultation, remote installation assistance, and on-site commissioning and training.
Original component supplements enable optimal system functionality.
Meanwhile, our professional technician team is also equipped with the experience and tools to provide customers with solutions at any time.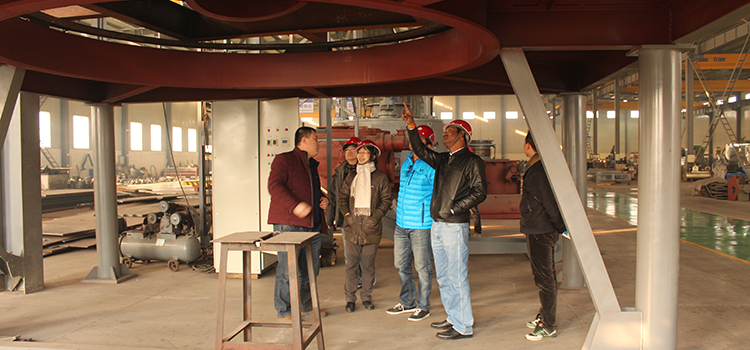 Equipment commissioning
Long-term cooperation is a crucial element for business success. After-sales service is how we maintain a solid relationship with customers and gather feedback to improve over time.
Professional engineers are ready to provide professional installation assistance.
Tinite has always striven for high-quality after-sales services and strong relationships with our customers.